THE HIGHLIGHTS
Mental health impacts over 20 percent of our population at any given time, yet everyone that suffers feels that they are alone.

The COVID-19 global pandemic has inadvertently shone a spotlight on what the isolation and loneliness of mental health feels like to those that suffer.

The stigma of mental health exists not only in the workplace but also at home since the line between the workplace and home has been blurred for many people.

We tend to give public figures some "room" to suffer from mental health issues, yet we don't give the same space to our friends, neighbors, and family members.

Platitudes, motivational quotes, and cliches are not helpful when trying to support someone struggling with a real mental health issue. Nobody solves their depression problem by "going for a good run".  It doesn't work that way.

Mental health issues are very treatable for the most part, but we do not celebrate "victory" over mental health issues like we do when someone – for example – beats cancer.  Mental health struggles can present non-glamorous lifetime management problems that don't lend themselves to the same success stories that we love to tell when it comes to other health concerns.

If it works for you … then it works for you!  Be careful about apologizing for your approach to mental health.  Be honest with yourself in terms of what "working" means, but if it makes you feel good and helps you struggle less, then you're doing nothing wrong and you are not required to qualify your explanation with words like "crazy" or "out there".

The self-help movement is great, but can often be more about the self than the help.  Maybe we should re-focus this as the "help others" movement!

Normalizing mental health disclosure might be a good idea rather than normalizing messages that tell people to "toughen up", "hustle", and "be tough at all costs".

Bringing these conversations into the workplace and encouraging business leaders to foster conversations about mental health isn't just a good idea for humans – it's a good idea for business too!  Caring about the mental health of employees helps attract talented people, retain them, and turn them into productive members of your team!  Managers don't need to become therapists or diagnosticians.  They only have to normalize the mental health conversation and create space for it to happen.

"Self-care" isn't found on Instagram!  It often has nothing to do with spa days, beach days, or wine. Self-care can be anything that makes you feel better and eases your struggle. There is no right or wrong self-care, and it certainly doesn't have to be glamorous!
About Ian Adair:
Ian Adair is a nonprofit industry influencer, TEDx speaker, and recognized expert in leadership, fundraising, and nonprofit management. Ian is a speaker, author, and advocate concerning mental health awareness and addressing mental health in the workplace. He is the author of, Stronger Than Stigma. A Call to Action: Stories of Grief, Loss, and Inspiration!  Ian was named as one of the Top 100 Charity Industry Influencers on Social Media in the World by Onalytica in 2019 and recognized as one of 30 Nonprofit Founders that will Impact the World in 2020 by Causeartist.
Ian is the Executive Director of the Gracepoint Foundation, the philanthropic arm of Gracepoint, one of the largest behavioral health organizations in the state of Florida. Gracepoint impacts the lives of more than 30,000 individuals each year, seeking mental health, medical, and addiction services in the greater Tampa area.
Find Ian online:
Become a full-time supporter of Mia and the podcast at
https://anchor.fm/miavosslive/support
Find Mia On Social Media
here
.
Listen and subscribe to the podcast:
Apple Podcasts
|
Spotify
|
Google Podcasts
|
RadioPublic
|
PocketCasts
|
Anchor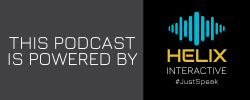 Music Credits:
Inspiring Experience by Rafael Krux
Link: https://filmmusic.io/song/5670-inspiring-experience-
Inspirational Infinity Of Space by WinnieTheMoog
Link: https://filmmusic.io/song/6593-inspirational-infinity-of-space
License: http://creativecommons.org/licenses/by/4.0/