Finding a trusted source for Plant/Ceremony Medicine is crucial and I was lucky enough to serendipitously find Mexisoul Retreats on Instagram. (Social media pro-tip – following hashtags you are interested in pays off!)
*Disclaimer:
This is not a compensated post – just my super opinionated opinion.
This post describes my personal experience with Ayahuasca, Kambo, Bufo, Temezcal (sweat lodge) and Cacao – every one is different and will react to and be effected by plant medicine specific to their experience. So don't "at" me if you try this and it's not matchy matchy – you are a grown ass adult. Act accordingly.
Originally when I planned this trip, my focus was just on Ayahuasca. My linear thinking mind was in a "one-and-done" state. Au contraire. Plant medicine ceremonies are integrative and intertwined. Combining the following modalities is a great way to get the best results. Also, spoiler alert – I'm still "downloading" and integrating my experience. Continuing with my spiritual work including meditation, shadow work and self-care will be a crucial component in the days to follow.
Check out all the fun photos & videos HERE!
First, a bit about Mexisoul – this is a gorgeous retreat spot located about an hour outside Guadalajara. It's set in the high country (approx. 6k feet above sea level!). The property is called Finca El Péndulo and is owned by Marina Melgarejo Gonzalez – you can hear all about her story here in this fun impromptu interview:

You can also check out these great videos & interviews:
MEXISOUL AYAHUASCA RETREATS TOUR
Mexisoul Retreats – Ruger Hebert
"There's nothing to 'fix'. We are already perfect. Plant Medicine is an opportunity for people to come home to themselves and in doing so learn to grow heal and ultimately remember themselves."

Shaman Humberto Alcala
I had a chance to sit down with Shaman Humberto Alcala and Mexisoul Creator Ruger Hebert for the Shit We Don't Talk About Podcast. We dive deep into his experience with plant and ceremony medicines, how he sources it and what someone can possibly expect with the ceremonies.
Check out the episode here
Spotify
Apple
Here's a transcript of the interview
Alright, let's get into it – here's a quick description of my experience at the retreat in November 2022.
Preparation for Plant Medicine – A week prior to my trip, I did a cleanse using a Clean Prep powder from Cosmo-Visions.com – they were recommended to me by Ayla Luna Rae (she's been a guest on my podcast and I plan on a plant medicine visit with her in the future!). Preparing yourself physically for a plant medicine ceremony is really one of the best ways to fully immerse yourself in the experience. Let's face it, who wants to bring extra shit along with them when your intention is to clear yourself from old patterns, traumas, experiences, etc? So yes, that means cleaning up your diet and abstaining from anything that numbs your body and senses including: booze (gasp), coffee (sharp intake of breath), cannabis, psilocybin and… s.e.x. These practices are common for an type of entheogenic ceremony (psychoactive substances employed in culturally sanctioned visionary experiences in ritual or spiritual contexts)
Here are the ceremonies performed during the retreat: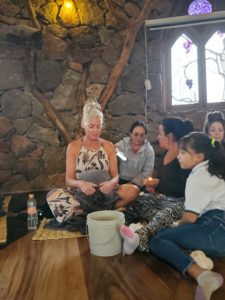 Kambo – this is not a hallucinogen and is commonly considered "Warrior" or "Ordeal" Medicine. It is not for the faint of heart and it prepares you for Ayahuasca. Lemme tell you something, with Kambo – YOU ARE DEFINITELY LIGHTER. It is not for the faint of heart and is considered "Warrior" or "Ordeal" Medicine. The ritual starts with small burn points on your body and then the Kambo substance (which is humanely collected from the Amazonian Phyllomedusa bicolor or giant leaf frog) is applied to the skin to quickly act and circulate throughout the body. The effects are QUICK. The Kambo immediately flows through the lymphatic system generating the activation of all the body's systems, and at the same time, a strong purge and total cleansing that lasts approximately 15 minutes.
Previously I had three sessions of Kambo in Colorado in April 2022 – I was so intrigued by how I felt (even though it was incredibly difficult) which is why I pushed even further to find out more about healing medicine. The experience this time was just as difficult and just as rewarding and I felt very ready for Ayahuasca.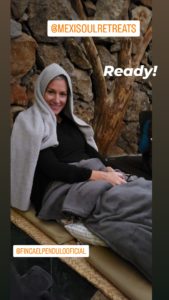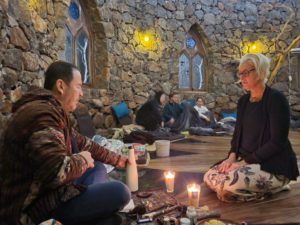 Ayahuasca: Ayahuasca is a brew made from the leaves of the Psychotria Viridis shrub along with the stalks of the Banisteriopsis Caapi vine. Psychotria Viridis contains dimethyltryptamine (DMT), a psychedelic substance that occurs naturally in the plant. When combined, people who have taken Ayahuasca report having mystical experiences and spiritual revelations regarding their purpose on earth, the true nature of the universe, and deep insight into their "higher self."
We had two Ayahuasca experiences during the retreat. For me, it felt underwhelming at first compared to how others in my group were reacting but overall it felt like I uncovered significant realizations in a quiet manner. I was also hesitant to take more than 1 dose the first night and only 1 & ½ doses the 2nd time. I'm fully prepared to really dive in for my next experience.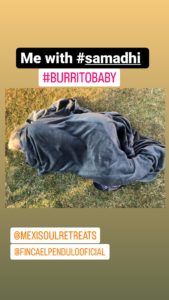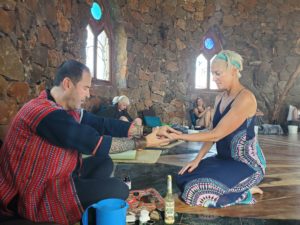 Samadhi – Samadhi is very similar to Ayahuasca, but it only operates on the conscious mind and is taken in a pill form. Tepezcohuite. Samadhi contains extracts of Syrian Rue to serve as monoamine oxidase inhibitor and extract of the root Tepezcohuite as the source of DMT.
Samadhi is a sacred tool that reminds us who we are and what we have forgotten.
WHOA, Samadhi was INTENSE. Again, everyone's experience was different. I took only one dose (pill form) and was very quickly transported to another universe that felt like a cross between Oculus and a weird video game. I felt barely tethered to this plane of existence for a period of time. Once I came back, I spent most of the afternoon in a dreamlike state which was soothing and healing. My experience was that of a being a 4 year old (which was a period of time in my life where I was badly abused) and I felt such a healing love for that 4 year old Mia.
Bufo – The common name given to the venom of the Bufo alvarius toad. Bufo contains naturally-occurring 5-MeO-DMT, a powerful psychedelic compound; 5-MEODMT is closely related to DMT. Bufo is vaporized and smoked directly through a pipe. It quickly goes into and out of the bloodstream. Bufo's hallucinogenic effects take hold very quickly—within minutes—after inhalation and last anywhere from 20 minutes to an hour.
Well, folks, this was the piece de resistance for me. I truly believe that 2 doses of Ayahuasa, 2 sessions of Kambo and 1 session of Samadhi primed me for what would happen with Bufo. I honestly remember very little of season except to say that I came to after 45 minutes (which is actually a long session compared to what others' experienced) and I guess there was a lot of yelling. For me, I believe that a spiritual cleansing occurred of so many past traumas. I observed others during their Bufo experience and the range was amazing. Everything from quiet & brief to extended and emotional. It was wonderful to see.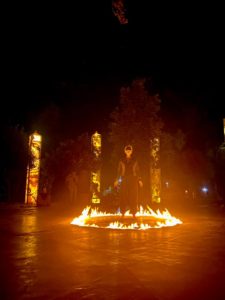 Fire Ceremony – such a beautiful way to seal the energy and also further jettison old energies. All of the participants wrote out things they wished to cut ties with (any previous experiences, traumas, habits, relationships) and place the pieces of paper inside a dried pepper. We then all gathered in the Oracle and each of us were led, blind-folded, one by one into the center where a ring of fire was lit and we stood for a few minutes. It's much less scary than it sounds and much more empowering than you can imagine.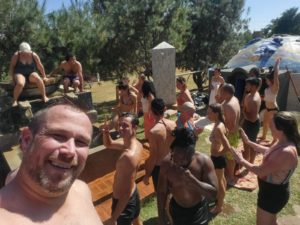 Temazcal (sweat lodge) – this was a beautiful ceremony held in the small sweat lodge – everyone piled into the dark cave-like structure and sang & meditated together – and then we plunged into the cold water! Whew – the rebirthing feeling was amazing!
Cacao – this ceremony is incredibly feminine and soothing. After a cleansing with sacred smoke, the Cacao is served with a blessing and meditation.
Both Temezcal and cacao – bring you back to a softer mode to integrate all of the information and all of the processes that you go through on the first three nights.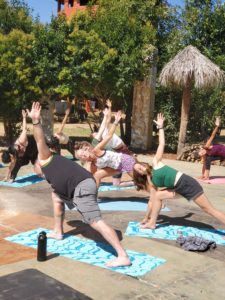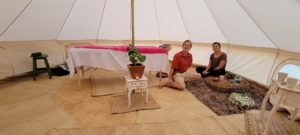 Yoga with Saya & Luna – these two fabulous souls facilitated several yoga & meditation ceremonies & also held massage sessions throughout the retreat!
Filip & Michaela of Soulmates Massage were also on hand. If you've never had 4 hands of massage at once, you are missing out.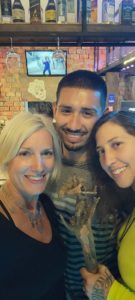 One of the most resounding endorsements were the return participants – some attended for the 2nd time and others returned as facilitators – special shoutout to Vanessa & Manny who not only kept an eye on me during Samadhi but also welcomed me into their home in Guadalajara and introduced me to the amazing tattoo artist Emmanuel.
With the guides & shaman at Mexisoul, they spend a lot of time preparing us for the physical and mental part of the experience but the spiritual piece is really up to you.
The most difficult work I've ever done in one of the most peaceful and beautiful spots. I plan on returning and also continuing with plant medicines – again, please give this podcast episode a listen to hear all about it!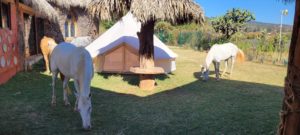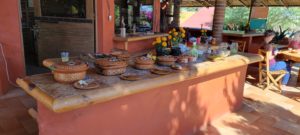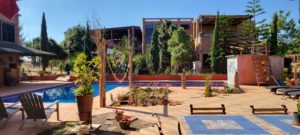 Other great things about this Retreat in particular:
Meals / Food is included – wonderful & healthy local fare! We all had 3 meals a day together (unless there was a ceremony during a meal time). Delicious food served family/buffet style and perfect for whatever was going on that day.
Accommodations are beautiful – I had my own room right near the Osho (where ceremonies are performed) which is a bit more pricey but there are other options available to share.
The grounds are absolutely spectacular, well maintained and are absolutely in line with everything that the Finca el Pendulo is about!
Every retreat is a little different depending on the time of year but make sure to reserve a spot soon because these events fill up FAST.  https://mexisoulretreats.com/